My name is Lorraine. I'm a certified snowboard instructor. I've used different kinds of snowboards and this is my review of the best butter snowboards to get this year.
There are many types of butter in the world of snowboarding: nose roll, tripod, bagel, pretzel… Generally speaking, butter refers to some ground tricks that come with a lot of pressing, spinning, and switch riding.
Buttering is super duper fun and probably one of the best stepping stones for freestyle snowboarding. You can perform buttering all over the mountain because it's something you can perform on normal terrain, no need for a kicker, jumps, etc.
In this article I am going to share some of my opinions on how to pick a snowboard that's great for buttering, a recommended snowboard list is always a must though!
What is Buttering
Now that you know buttering is super fun and you're probably going to try it, but what is buttering and why is it called this term?
In fact, it's called "butter" when Craig Kelly was doing it, his friends said it looked like he was buttering bread. Watch this and this video, you'll gain a better understanding of buttering.
Other than butters, you may have heard ground tricks, flat ground, or flatland… generally speaking, all of these are referring to buttering.
Top Snowboards for Buttering
Here are all of my top picks for the best snowboards for buttering, along with quick reviews of each board.
1. Salomon Huck Knife
Best for: Overall
Key features: True twin shape, good flex for butters, EQ radial sidecut, poppy performance, freestyle edge bevel
Flex: Medium/Soft
Shape: True Twin
Cost: $$$
The Salomon Huck Knife comes in at the top of the list for the best snowboard for buttering. This is a fun and effective freestyle board with a soft flex and true twin shape that is ideal for butters and jibs.
The board has a medium/soft flex, which I think is the ideal spot for buttering. It gives you enough bend to easily get up on your tip or tail while still giving you enough stiffness to stay in control.
Other features of the Huck Knife include an EQ radial sidecut that makes the board very responsive, a popster core that gives you excellent freestyle performance, and freestyle edge bevels that are great in the park.
This one does have quite a bit of camber in the profile, which some freestyle purists might not want.
2. Capita Space Metal Fantasy
Best for: Women
Key features: Women's specific design, V2 profile, Superdrive base, uniform flex, radial sidecut
Flex: Medium/soft
Shape: Twin
Cost: $$$
For a women's specific snowboard that is excellent for buttering, check out the Capita Space Metal Fantasy. This is another fun and flexy option that will easily allow you to butter up your tip and tail.
This one comes with a Park V2 profile shape that features zero camber underfoot and a lot of rocker in the tip and tail. This allows you to make butters and presses without much effort and is great for freestyle riding.
I also like the Superdrive base because it helps you get the benefits of both sintered and extruded base construction. The result is excellent durability and slide on the snow.
Zero camber does limit what this board is capable of in non-freestyle situations, but if you stick in the terrain park, that shouldn't be much of an issue.
3. Capita Ultrafear
Best for: Flex
Key features: Dual Blaster V2 core, radial sidecut, cork edge dampening system, consistent flex
Flex: Medium
Shape: Twin
Cost: $$$
If you are looking for a consistent flex that will allow you to butter effectively without limiting what a board can do in other situations, take a look at the Capita Ultrafear.
This one is a bit stiffer than a strict freestyle/buttering board, but that makes it great for experienced riders who want a bit more response when bouncing around the terrain park.
You also get a Dual Blaster V2 core, which utilizes lightweight strips of wood to keep the flex even along the entire length of the board. This is a solid design feature for quality buttering performance.
The downside here is that it can take a little more effort to get the board on its tip or tail when buttering – it's not a super soft flexing option.
4. Nitro Optisym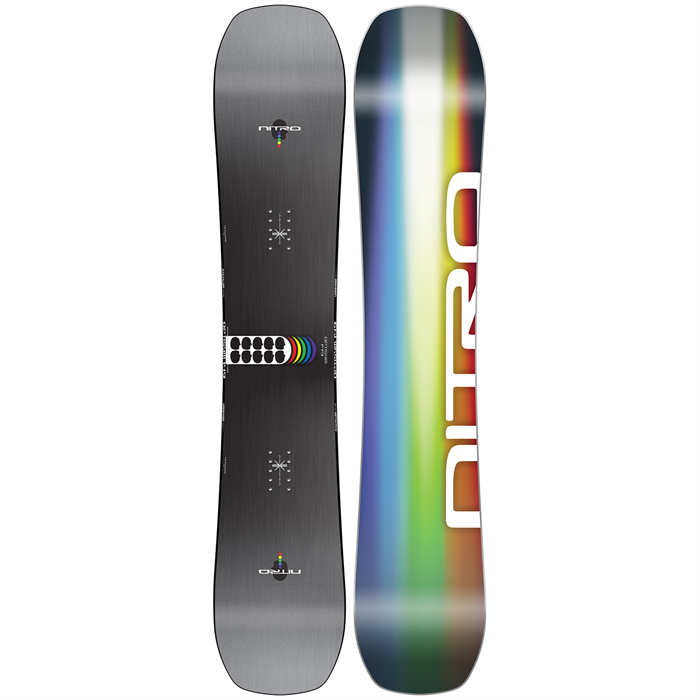 Best for: The Park
Key features: Excellent park performance, Cam-Out camber profile, degressive sidecut, Power Core II
Flex: Medium/soft
Shape: Asymmetrical Twin
Cost: $$$
The Nitro Optisym is a solid choice for any snowboarder who wants a board that can butter well but easily rips up the entire terrain park.
This board has an urban flex that lets you press, butter, and hit any feature in the park without worrying about if you'll lose edge control or response.
It also has a Power Core II that features poplar and beech wood stringers to give you a lot of snap and response. These are good to have underfoot when learning new tricks in the park.
This one won't give you amazing all-mountain performance, but it's really not intended to.
5. Ride Twinpig
Best for: Unique Design
Key features: Fat and wide design, quadratic sidecut, lightweight but strong, super durable, Slime Walls
Flex: Medium/Soft
Shape: Asymmetrical Twin
Cost: $$$$
The Ride Twinpig is a unique board that features a short and fat shape that allows you to butter to your heart's content.
Ride is known for offering some really fat and short boards, especially in their pig lineup, and the Twinpig offers that same construction with a freestyle focus. The result is effective and exciting, even if it's a little different than you might expect.
Stand-out features on this board include a twin hybrid rocker that shows off the freestyle focus, a quadratic sidecut that gives you excellent hold on the snow, and super-durable construction that will take a beating and keep on going strong.
This isn't a great option for getting high speeds or super responsive turning, so it's not recommended for the halfpipe.
Best Snowboards for Buttering: Features to Consider
Keep these following factors in mind when you are shopping for any snowboards for buttering.
Flex (Stiffness)
Totally opposite to picking a snowboard for carving, you would like to get a softer board for buttering. Because a softer board is more forgiving since the response to the edge of your board caused by your input would be delayed because it's so soft. And it's easier for you to do presses, too.
Pick a board with softer flex at the center part and harder tail and nose would make your presses and spinning easier. A softer board would offer you more playful feeling and fun, and is more flexible and easier to general greater force which will allow you to stay longer in the air when you are spinning, therefore making your buttering easier.
Learn More: What is Snowboard Flex (Soft vs. Medium vs. Stiff)
Length
A slightly shorter length would make your buttering easier since it offers higher maneuverability, and therefore make it easier to perform spins, pressing, and tricks.
Normally, I would take off around 2 – 6 cm from your standard length. A shorter board would be lighter in weight so you can jump higher, and therefore have more time to finish your tricks.
Directional Shape
As mentioned earlier, buttering would require a lot of switch riding, therefore it is ideal for you to get a true twin board and hence give you a more similar feeling while performing switch riding/ landing/ jumping/ spinning.
Read: 4 Types of Snowboard Shapes Explained
Snowboard Profile
Generally speaking, a rocker profile or hybrid rocker would make it easier for buttering. But for sure you can perform buttering with a camber profile too, it's more a personal preference. For example, I prefer a hybrid profile as it features some rocker character so I have the flexibility of a rocker plus the stability of a camber.
Width
I would say just getting a normal wide snowboard is fine because a board that's too wide would delay your response to the snow and mistakes. Similarly, a board too narrow would make it hard for you to balance on the board since it is very likely that you are already getting a shorter board.
Base
Most freestyle boards feature an extruded base so it's easier to repair, it lowers the cost of your snowboard too. I found it kind of easy for us to cause some slight damage to our board in the park and hence it is good to have something easy to repair.
See Also: Snowboard Base Extruded vs Sintered
Binding and Stances Setting
Unlike performing carving, there are no standard rules for buttering, it's more about your personal choice, I would say it is good for you to set your binding at a more centered position so you are more balanced, with a +15/-15 binding settings so to offer more similar feelings while riding switch, then perform the same tricks with different settings so you can feel the difference and adjust accordingly.
Also Read: How to Find the Best Snowboard Stance Setup
Additional Tips for Buttering
Hopefully, you have found your desired snowboard for buttering. Here are a few tips and tricks that could be helpful to you:
Practice your switching and press more before you start doing spinning, basic is everything!
Loosen your knees so you are more flexible.
Practice on a softer but not too powder area is a good start (still hard enough for you to get an edge after butters but won't hurt that much if you fall).
Try to jump or spin with the reflection force generated by your board instead of just relying on your jumps, you can jump higher and have a longer air time to finish your tricks.
Make sure you are wearing protection gears when you hit the park or try to perform butters.
Always start at a slower speed so it's less likely you are gonna fall because of lost control or balances.
If you are a beginner, try to carry less with you on your park day, it's easier to balance.
Final Words
That's all for what I can think of about picking the best buttering snowboard. Honestly, you can perform buttering with any board… just snowboards with these mentioned features would make it so much easy for you to perform butters.
Remember, it's always a good idea to start at a slow speed and wear enough protection gear.
About Lorraine