Every season, I get excited about the many new snowboards on the market. With the popularity of the sport soaring, there are a ton of excellent options to choose from.
I'm a snowboarding instructor certified by the Canadian Association of Snowboard Instructors (evidence). I've been riding for years and always stay informed about the best new boards.
The Jones Frontier is my pick for the best overall snowboard for this season.
There are plenty of great options out there to match any riding style or preferences you might have. I'll show you several quality snowboards here, and you can't go wrong with any of them.
Whether you're new to riding or have been on a snowboard longer than you've been able to walk, we all share the same passion for the sport. A new board is always exciting, and getting your hands on a top option can help you improve.
Let's strap in and get going.
Who Should Get This
Snowboarding's popularity means you have many different options when it comes to just about every aspect of the sport. From boards and boots to gear and apparel, the possibilities are nearly endless.
If you're serious about snowboarding, you should get your own gear. Not only will that save you money in the long run by not having to rent every time you want to go riding, but it will also encourage you to get up to the mountain as often as possible.
The best way to enjoy the sport is to spend as much time as possible in the snow. And the best way to make that possible is to have a snowboard or two in your quiver.
Whether you are getting a new board for the first time or adding another one to your quiver, you want to make sure you buy the best option available.
The boards listed here are all well-designed and built with high-quality materials to meet the needs of all types of riders. They also represent a variety of styles to match any preferences you have.
You can always try to rent a board before you buy it to see if you like how it performs in the snow. If you fall in love with it, you can then make a purchase based on experience rather than flying blind.
Top Snowboards in 2022
If you are new to riding or just want a new board, the options listed below are some of the best currently available. You can't go wrong with any of them, but you can match a specific model to your riding style or preferences.
1. Best Overall: Jones Frontier
Best for: Overall
Key features: Versatile shape and very capable, Traction Tech 2.0 edges, eco-plastic top sheet, poppy core, sintered 8000 base
Flex: Medium
Shape: Directional
Cost: $$$
The Jones Frontier is a great all-around snowboard. It makes the top of the list because it will give you excellent performance characteristics in just about any condition without sacrificing any area.
I like that the board has an obvious all-mountain appeal but can handle big-mountain and powder conditions with ease. It's a good board for various ability levels and can help you push your skills to the next level.
The Frontier also has versatility in its sizing, not just its performance. Riders of all sizes can take advantage of the four different widths available.
It also features some innovative design elements that boost its performance in a variety of conditions. The tip and tail are spooned and rockered, allowing you to stay in control while still having plenty of pop.
A progressive sidecut allows you to really dig in when carving or in tight turns, and Traction Tech 2.0 edges give you the ability to steer and stop on a dime.
The only area where the Frontier doesn't stand out is in the park. You can certainly huck big airs or hit a feature or two, but if you're a park rat, I would look for another option more focused on the style.
2. Best All-Mountain: Ride Warpig
Best for: All-Mountain
Key features: Tapered bi-radial sidecut, lightweight and strong, topless construction, tapered rocker
Flex: Medium
Shape: Directional
Cost: $$$
The Warpig is an all-mountain monster built to tackle any and every condition that comes your way at the resort or in the backcountry. It's a fun board to ride that is aggressive and capable, making it well-suited for experienced riders.
This board is unique because it's meant to be shorter and wider than what you would usually expect out of an all-mountain option. It's an innovative design that I think is effective and fun.
It will blast through powder, allowing for plenty of float and a quick, bouncy turning radius. Transitions to hardpack, groomers, and trees will be a breeze with the Warpig underfoot.
Medium flex gives you control without being stiff, making the board both aggressive and playful. This sweet spot allows you to use it in big-mountain conditions and the park on the same run.
The shorter length makes it highly maneuverable in all of these conditions, as well. Unique construction elements like a topless top sheet and double impact plates keep it light without compromising strength.
The Warpig can be a lot to handle and isn't an excellent option for beginners. The shorter length is novel and can take some getting used even for experienced riders.
3. Best Freeride: K2 Alchemist
Best for: Freeride
Key features: Excellent torsional stiffness, fast board, quality construction, a good blend of rocker and camber,
Flex: Stiff
Shape: Directional
Cost: $$$$
If you love high speeds, big lines, and all of the other best parts of freeriding, the K2 Alchemist is the board for you. This one is built to bomb and can allow you to charge hard in variable conditions as fast as you're comfortable going.
A key aspect of this speed demon is a glass laminate construction that increases torsional stiffness. This improves stability and edge hold, allowing you to stay in control in highly technical situations.
It's a strong board that isn't overbuilt, so it's still light enough to easily maneuver through tight trees or on steep slopes where quick turns are required.
Another standout feature is a blend of both camber and rocker profile. Camber gives you excellent control and pop, while rocker provides float and fun. This is enhanced even further by a Carbon Power Fork that allows you to put the stiff flex to use when needed.
The board won't chatter at high speeds thanks to SpaceGlass inserts that increase edge hold. These inserts also increase durability and allow you to tackle questionable conditions without worry.
The biggest downside to the Alchemist is its high price. The stiff flex might turn off riders who love freestyle pursuits, as well.
4. Best Freestyle: Burton Flight Attendant
Best for: Freestyle
Key features: Balanced freeride geometry, directional camber, floaty and fun, durable, quick response, tapered core
Flex: Medium
Shape: Twin
Cost: $$$
Think of the Burton Flight Attendant (review) as a freestyle board with benefits. It will give you all of the pop, response, and flex you want and need in the park while also allowing you to explore other areas of the mountain.
It's not a traditional twin, which might put off some freestyle purists, but I promise you the slight directional nature makes it versatile without taking away from what it can do in the park.
A balanced freeride geometry uses elements of camber and sidecut to give you added control and response in all types of conditions while keeping a centered stance.
The board is light and strong, with a quick response that translates into easy maneuverability with turns or aerials. The directional flex also increases versatility and keeps things playful yet capable.
Another unique design element is the 10cm taper core that increases versatility and float. The downside is you don't get true twin performance, which is noticeable when riding switch or in the halfpipe.
5. Best Women's Board: Jones Dream Catcher
Best for: Women's Board
Key features: Extremely capable and versatile, playful but capable, 3D Contour Base 1.0, Traction Tech 2.0 edges
Flex: Medium
Shape: Directional
Cost: $$$
The Dream Catcher follows closely in the footsteps of the Jones Frontier, the difference being that this one is built specifically for women riders.
It's a great all-around board that will give you excellent performance in a wide variety of conditions. From deep powder lines to cruising at top speeds, the Dream Catcher will provide you with dreamy performance throughout it all.
It has a medium flex that is forgiving enough to be playful and stiff enough to keep the board under control. The Traction Tech 2.0 edges help you stay stable when conditions are less than ideal and stay strong and sharp.
The spooned tip and tail is very similar to the Frontier as well, giving you added pop and response when you need it. This, alongside the 3D Contour Base, allows you to navigate in tighter situations like trees or steeps quickly.
It's not a beginner's board and best left for intermediate to advanced riders. Other than that, this is a top women's specific option for sure.
==> You can also get it on Moosejaw or Christy Sports.
6. Best Powder Board: Lib Tech T. Rice Orca
Best for: Powder
Key features: Amazing powder performance, unique design and construction, C2x rocker/camber profile, powerful and fun.
Flex: Medium/Stiff
Shape: Directional
Cost: $$$
Let's be honest, there aren't many things in life better than a good powder day. Unless you're strapped into the Orca on a powder day, that is.
This board is built with powder in mind and has a unique shape that features 'whale tail technology,' which is basically a spooned-out tail that adds playfulness and float when the snow gets deep.
This is an extremely fun board to ride in deep powder conditions. You will get fantastic float and response alongside the ability to carve and pop in any type of slope angle.
Key to this performance is a long nose that increases float up front and a short turn radius that gives you supreme control. The board rips powder, and the tail gives it extra powder for aggressive riders.
The Orca is also capable in other situations when you don't have access to perfect powder conditions. It isn't too wide for a powder board, which opens up possibilities in other parts of the mountain.
Even though it's somewhat versatile, I wouldn't recommend this one as an all-season board. But having it in your quiver for powder days is highly recommended.
7. Best Splitboard: Gnu Gorp
Best for: Splitboard
Key features: Lightweight, great powder and big mountain performance, C3 camber profile, Magnetraction edges
Flex: Medium/Stiff
Shape: Twin
Cost: $$$$$
Backcountry riders of any type should take a look at the Gnu Gorp splitboard. This is an excellent tool to get you deep into the wilderness and take advantage of untouched lines on the way back to civilization.
Uphill performance is solid and easy as the board gives you grippy traction and an easy transition into split foot use. It has an ultra-lightweight construction that's a must to keep your energy levels up for the downhill sections.
C3 camber gives the Gorp serious downhill performance as well. You can expect good grip, hold, and powerful response. There is also a mild rocker underfoot for pop and play, for those freestyle and freeride fans out there.
This board will hold up well at high speeds, in deep snow, through crud, and other backcountry conditions. The Magnetraction edges provide great edge hold and control and stay consistently sharp.
This board is very capable but fully intended for experienced riders, and it's also really expensive. It's far from a budget option and one of the most costly choices on this list. You'll get plenty of backcountry capability, but you'll pay for it.
8. Best Budget Board: Rossignol Circuit
Best for: Budget Option
Key features: Affordable, good option for beginners, forgiving performance, AmpTeck turn rocker
Flex: Soft
Shape: Twin
Cost: $$
The Rossignol Circuit is a solid budget option that's great for beginner riders looking to get their first snowboard. It's affordable while still offering enough quality to allow you to learn and progress throughout the season.
It has an all-mountain shape and design to give you the ability to try any type of terrain you want to practice in. That opens up doors for you to progress and evolve quickly without limiting you to any single part of the mountain.
AmpTeck turn rocker helps increase maneuverability making for a fun riding experience that will keep you in control. It also has enough grip and control to keep you stable and secure when turning and learning how to carve.
This is a good board for your first season or two on the snow. It can help you learn the basics and get your abilities improved quickly and effectively. If you're a fast learner, you'll probably want another board as soon as you can handle one.
The Circuit is for beginners, and although it's affordable, I wouldn't recommend it for anyone with intermediate abilities. It's just not aggressive enough to handle more technical terrain, but it is a great learning tool.
9. Best New Model: YES. Optimistic
Best for: New Model
Key features: Very responsive, tight side cut, good at high speeds, versatile, fun to ride, can handle poor conditions easily
Flex: Medium/Stiff
Shape: Directional
Cost: $$$$
One of the best new boards of the year is the YES. Optimistic. This is a unique board in design and intent as it's somewhat built to handle less than ideal conditions.
One glance at the Optimistic, and you'll notice a unique shape. This isn't for show. It has a tight sidecut that allows for carving in any sort of condition. And I mean that when I say. This board is just as comfortable in ice and crud as it is in powder.
The same characteristics that allow for outstanding performance in various conditions make the board seriously stable with edge control that rivals many of the other top options on the market.
I also like it because it stays very stable at higher speeds, and you'll have to be really cruising to encounter any board chatter at all. The board is a little stiff for a beginner but this translates into aggressive abilities that intermediate and advanced riders will love.
It's a wide board that can take some getting used to, but once you get the hang of it, the Optimistic will rip through powder, crud, ice, and slush.
==> You can also get it on Backcounrty.com, Tactics or Evo.
10. Best Kid's Board: Burton Chicklet
Best for: Kid's Board
Key features: Symmetrical shape, forgiving, twin flex, limited edge hold great for learning
Flex: Soft
Shape: Directional
Cost: $
If you want to get your kids started early, the Burton Chicklet is a solid option for those first-time groms to get a feel for the snow and begin their lifelong passion for the sport.
This isn't a tiny traditional snowboard. It's built for small children and doesn't have strap-in bindings. This design is unique and can help those tiny ones get a feel for the basics before fully committing to being strapped in.
The Chicklet has a twin shape that is entirely symmetrical to allow for easy riding regular or switch. It's also very soft and won't generate too much speed – a good concern with safety in mind.
The board also doesn't have traditional edges, so that any faceplants will be limited. This is a great way to limit the risk of a kid wiping out and getting a face full of snow. Some might like that sort of thing, but others will want to head straight into the lodge.
The Chicklet is marketed as a girl's board, and boys might not appreciate the graphics, but it will work for any child.
11. Best for Beginners: Ride Agenda
Best for: Beginners
Key features: Great board focused on progression, Foundation Core, smooth ride, twin hybrid rocker
Flex: Soft
Shape: Twin
Cost: $$
For a beginner board that will help you become a better snowboarder, take a look at the Ride Agenda. This is a good choice for a first board because it can help you progress through ability levels over a few seasons.
A soft flex is forgiving enough to keep you stable and in control, as you learn how to ride the edges, carve, and perform other basic maneuvers on the board.
A twin hybrid rocker design keeps the response mellow while still proving enough pop to tackle more challenging conditions. This is also a versatile profile that is equally capable in the park as it is on the mountain's front side.
The sidewalls on the Agenda are called Slimewalls, and they provide a very smooth ride with limited edge drag without compromising control. This does sacrifice some carving ability and effectiveness on ice, but it makes the board very approachable.
There is an Aspen wood Foundation Core that is also focused on progression. This core keeps the board lightweight but has enough durability to provide both pop and flex – everything you need when learning the basics.
It's not a good option for more advanced riders as the soft flex can be limiting. It's also relatively expensive for a beginner option.
12. Best for Carving: Burton Family Tree
Best for: Carving
Key features: Tapered nose, floaty, versatile, effective edge control, rocker nose for added stability
Flex: Medium
Shape: Directional
Cost: $$$
The Burton Family Tree takes some design elements from the world of surfing, making it a superb option for carving. It's built to turn and float through powder and packed conditions alike effortlessly.
The board really excels in powder carving. It has a floaty feel that will keep you on top of the snow and engaged in every single turn. A wider nose than tail helps keep the front end up, so you don't get bogged down even in heavy snow.
The Family Tree does equally well carving other conditions. It's versatile enough to take all over the resort, and you can dig into long lines on groomers or turn effectively through the trees.
20mm of taper up front increases the float and allows for smooth and effortless turns – another nod to surfing and improved carving technique. The board is a natural turner and will help you get into a transition and through to the other side with ease.
A rockered nose and increases stability in cruddy conditions, making the board powerful and effective even in less than ideal snow.
The Agenda is heavy and won't be a good option in the park. It's too stiff and aggressive for any real freestyle riding.
13. Best for Icy Conditions: Lib Tech Skunk Ape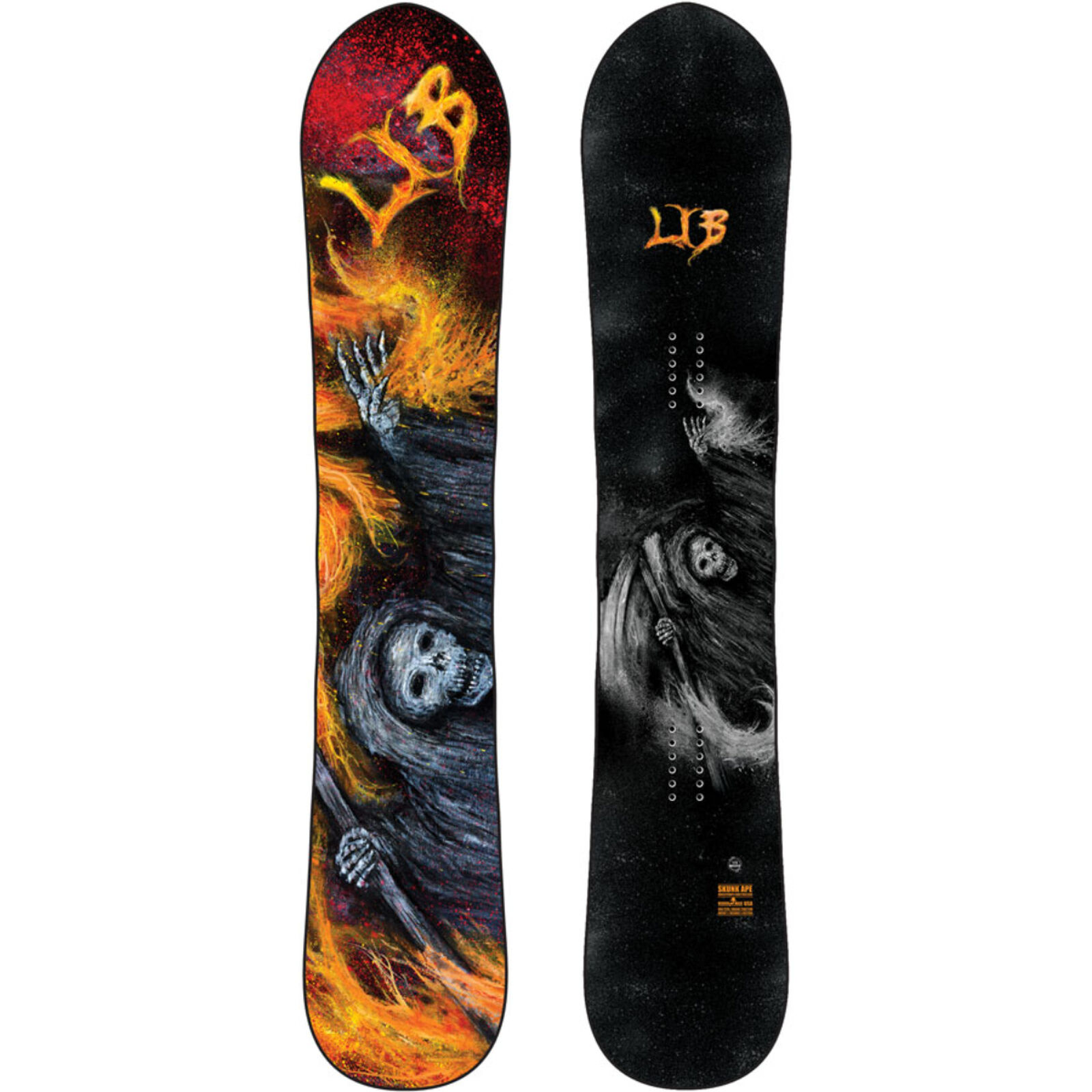 Best for: Icy Conditions
Key features: Powerful all-terrain board, lightweight tip and tail, eco poly top, low maintenance base, magne-traction edges
Flex: Medium/Stiff
Shape: Twin
Cost: $$$
When you see a board advertised as having the ability to "turn ice into powder," you might question the marketing tactics. But the Lib Tech Skunk Ape indeed makes the claim and is one of the best boards for icy conditions out there.
The key to this iced-out performance is the magne-traction edges that provide consistent dig when you need it without wearing out. These edges keep you in control even in the hardpack ice where other boards would falter.
It also has a directional twin shape that caters to resort riding. And if you stick to the resort, you're going to deal with ice eventually. Depending on where you ride, you might deal with it all the time. This board is perfect for those situations.
It's powerful enough to charge through questionable conditions and has a lightweight core to help you keep up the speed while you do it. A low maintenance base adds durability and extends the time between ice-induced wax jobs.
The board doesn't excel in any one category and is notably lacking in powder performance, but it's a decent all-around option that won't blink when things get icy.
What to Look for When Buying a Snowboard
When you are shopping for a new board, consider any of the following to help you choose an option that's best for your ability level and riding style. You can read our other guide on how to choose a snowboard to learn more.
Type of Board
There are a ton of different snowboard categories out there. Most boards are versatile and can be used in a wide variety of situations. Experienced riders might want specific boards for specific riding conditions.
If you're looking for a snowboard that can perform well in various situations and grow with you as your abilities progress, look for all-mountain or freestyle options.
These boards are great for riders who like to explore the entire mountain and spend their days roaming from big steep lines to the many features in the park.
Powder and freeride boards are two other types that are more focused on a specific type of riding over all-mountain performance. Powder boards can be wider and floaty. Freeride boards are for an advanced riding style that focuses on big mountain lines and high speeds.
Having a specialized board means you might sacrifice in other areas of the mountain. But adding a few different boards to your quiver can give you the ability to take advantage of the style and conditions you love.
Profile
It is also essential to pay attention to your snowboard's profile because it impacts how the snowboard feels and performs on the mountain. Profile refers to the curve of the snowboard as it appears when you are looking at it from edge to edge.
Different profiles will give different ride characteristics, and every rider has their preference.
A rockered profile means that the tip and the tail of the snowboard curve up away from the snow while the center/underfoot portion remains in contact with the snow. This is often known as a 'banana' shape.
Camber is another typical profile shape where the center of the snowboard rises off of the snow a bit if you look at it lying flat. All boards will have a slightly upward turn on the tip and tail to keep them above the snow, while a cambered profile looks more like an 'S' with an extra curve in it.
This profile can give a snowboard more energy when the bend is pressed down, which results in a snappy or poppy feel when turning or performing in other demanding on-mountain situations.
Hybrid profiles are standard in all-mountain boards and combine both rocker and camber elements to give the rider the benefits of both. You might need to experiment with different hybrid profiles before finding one that works best for you.
Snowboards can also have a flat profile, although it is pretty rare these days. This is a good profile for certain powder conditions and is a versatile option. These are hard to control, and I wouldn't recommend them if you are not familiar.
Flex
Flex is another consideration. This is the amount of bend in a board, both tip to tail and edge to edge. Flex gives a board defining characteristics that affect how it feels to ride and how it performs on the snow.
The flex of a board is often listed as a number between 1 and 10, with 1 being soft and flexible and 10 being hard and stiff.
Stiff flex is best suited for experienced riders who want a snowboard that can bust through the snow with ease or who love to go fast.
Stiff boards can be harder to control, but they are very stable. This means they perform well going steep and fast but can be too much for beginners.
Medium flex is the most common flex, and it is seen in the majority of boards out there. All-mountain and freestyle options designed to handle a little bit of everything almost always have a medium to medium/stiff flex.
This level of flex provides solid control and stability while still being soft and maneuverable enough to perform at a high level in a variety of conditions.
Soft flex is best suited for beginners because it's easy to control. Soft boards are also a great option for riders who love the park because they are easy to perform butters and presses on. Lighter flex will start to chatter at high speeds, though.
Almost all boards are a mixture of flexes. It is rare to have a 1 or a 10 on the scale. Medium-stiff or medium-soft are more generally seen flexes. You want to look for stiffness that matches your abilities but also how you like to ride.
Shape
Shape is another consideration to think about when choosing a snowboard. Symmetrical boards are the classic twin-tipped shape that is virtually equal in shape on the tip and tail.
This shape will allow you to ride switch with ease and is good for those who like to spend time in the park. You will see the same performance whether you're riding switch or regular, which is ideal in certain situations.
Directional boards have an asymmetrical shape that will create better performance in certain conditions, such as in powder or for higher speeds. This shape is meant to be ridden in one direction and will be difficult, if not impossible, to ride switch.
Some directional boards have a drastic shape, such as a dedicated powder snowboard with a fishtail cutout in the tail.
There are also directional twin shapes that are slightly symmetrical. Such models are common in all-mountain shapes and allow for the control and playfulness of a twin-type shape.
Construction
All of the boards listed here have quality wood cores and other key construction elements that make them great options for any mountain. Well-constructed boards are durable and strong, which goes a long way when pressing through tough conditions.
Higher-quality construction typically equates to a higher price, which is not great for boarders on a budget.
Most boards feature a wood core sandwiched by other layers of build elements such as fiberglass, carbon, more wood, kevlar, or cork.
You might have a preferred wood or build the style that you like to ride, so it's good to keep an eye on what materials your snowboard uses.
FAQs
Here are some of the most commonly asked questions about buying a new snowboard.
What are the 4 types of snowboards?
The 4 types of snowboards include all-mountain, freestyle, freeride, and powder. Splitboards are another type, but I wouldn't classify these as a significant board category.
Should a snowboard be up to your chin?
This is the general rule for sizing a snowboard to your height. It can work for the average rider most of the time but is not a rule set in stone. Advanced riders often have a specific preference in board height.
Does 2 cm make a difference on a snowboard?
2 cm can make a difference on a snowboard, especially in different riding conditions. A beginner rider probably wouldn't notice this slight change, but an experienced snowboarder will.
Is a shorter snowboard easier to ride?
Yes and no. A shorter board will be easier to turn and generally lighter in weight. But a longer board will be more stable at higher speeds. Proper length comes down to experience and riding style.
What should I look for when buying my first snowboard?
There are many factors to consider. The section above on what to look for is a good place to start. For your first board, I would look at length, type of board, and cost.
How much does a decent snowboard cost?
I would say that a decent board will generally run you anywhere from $500-800. There are good boards that fall outside of this range, but that is the average I've spent on quality snowboards over the years.
Useful Tips & Resources
The snowboards you'll find on this list are some of the top options currently available, but there are too many out there to put on one list.
You can't go wrong with any of the above but if you want to learn a bit more about picking out a great board, talk to your fellow riders or a tech at the snowboard shop.
Remember that safety is a significant concern when pursuing any snowsport. Injuries can occur at any moment, and you want to do all you can to prevent them from happening to yourself and anyone else on the mountain.
Getting hurt is one thing, but being the source of injury for another rider can make you feel downright awful.
Always ride in control and be aware of others around you. You might be eager to get out there and rip on your new board, but one wrong move can cause a quick end to your season.
Wear a helmet and always have a spotter if you're going off any serious terrain features anywhere in the resort, park, or backcountry.
For more general safety tips, take a look at this.
You can also check out some of my other snowboard reviews and buying guides:
Final Words
Of all the new snowboards out there this year, the Jones Frontier is my choice for the best option. It's a quality all-mountain board that can tackle all sorts of conditions and is a blast to ride.
Whether you are buying a snowboard for the first time or are making another addition to your arsenal, the options listed here are some of the best currently available. You might even want more than one. I sure do.
About Lorraine