Riding in the park can be the closest to flying you'll ever get. It's not a style for everyone, but if you have been bitten by the terrain park bug, you live for big airs and steady progression. You also need a board that can keep up.
I am a snowboarding instructor who has been teaching all types of riders over the last decade. I've helped many people improve their skills in the park, and a good board is one vital factor in helping them get better.
In my opinion, the Lib Tech Skate Banana is the best park snowboard.
You can technically take any snowboard into the terrain park. But this list will break down some of the best park snowboards to help you crush it on rails, jumps, and in the pipe. A board alone won't make you a better rider, but it will get you pointed in the ride direction.
Strap in tight, and let's get started.
Who Should Get This
The snowboards on this list are designed for the park. They all have attributes that make them ideal for those who like to ride on rails, hit big airs, and jib all over the mountain.
That being said, they aren't always the best option for other areas of the mountain. If you want to excel in the park, any of these options will work well and allow you to push your limits as far as you're willing to go.
If you're a beginner or someone who only likes to go to the park from time to time, a different board style, such as an all-mountain variety, might be better for your needs.
These snowboards can be ridden outside of the park, but they are not always intended for big-mountain or backcountry purposes.
Top Park Snowboards to Get This Year
There are many snowboard options out there that can work in the terrain park. The options you'll find below are my recommended top choices for a variety of different purposes.
1. Best Overall: Lib Tech Skate Banana
Best For: Overall
Key features: Banana rocker/camber hybrid contour, power construction, magne-traction edges
Shape: True Twin
Profile: Banana Rocker
Cost: $$$
The Lib Tech Skate Banana (review) is my current top choice for the best overall park snowboard. This one will rip through any feature and allow you to generate all the pop and power you need to go huge.
I like this board because it has a banana rocker profile that is entirely focused on the park while also utilizing a power construction that lets you take advantage of building speed and liftoff.
The true twin shape is a must for any dedicated park board, and the Skate Banana allows you to easily ride or land switch without thinking much about it. Magne-traction serrated edges provide serious grip and control when on the approach or when you land.
The Skate Banana is limited in other areas of the mountain, and its lack of camber may be a different feel for any rider accustomed to an all-mountain board. But it will crush anything you want it to in the park.
2. Best Women's Option: CAPiTA Birds of a Feather
Best For: Women
Key features: Park focused but still versatile in other areas, kevlar bound sidewalls, carbon fiber boosters, durable and strong core
Shape: True Twin
Profile: Resort V1 (Hybrid zero camber)
Cost: $$$
The CAPiTA Birds of a Feather is an awesome park-focused women's board. This one can also rip and will keep you satisfied with any feature.
The dual blaster Ash core is lightweight and strong but is built with other performance capabilities in mind. It allows you to generate pop while maintaining adequate control. This translates to responsive and active park riding.
The medium flex stands out strong in the park and is soft enough to butter and jib with the best of them while stiff enough to get you outside of the park and into some serious all-mountain runs if you want. This added versatility that is nice to have.
Kevlar sidewalls are another great feature of the Birds of a Feather. You won't have to worry about a blown edge and can hit rails all season long without much worry of constant tune-ups.
The board is a little heavy, and the zero camber profile might take some getting used to.
3. Best for All-Mountain: Gnu Head Space
Best For: All-mountain
Key features: Intuitive asymmetry for increased performance, solid in the park and all over the mountain
Shape: Asym Twin
Profile: C3 Camber
Cost: $$$
If you want a solid park board but don't want to be limited by its capabilities, check out the Gnu Head Space. It has unreal performance in the halfpipe, off rails, and in the air but is also more than capable in powder and big mountain lines.
The intuitive asymmetrical design allows for the best of both worlds here. It's nearly a twin shape, so you can use that to your advantage as you hit any feature in the park. But the slight directional nature can help you jump into the rest of the mountain without blinking.
The profile design gives you precision, control, and power while still being fun and floaty. A medium flex helps with versatility all-around.
This isn't a good beginner's board because it's aggressive by design.
4. Best Budget Option: Rossignol Jibsaw
Best For: Budget pick
Key features: Affordable, explosive, very stable, AmpTek rocker, good edge grip
Shape: Twin
Profile: Amptek Elite
Cost: $$
For a budget pick that will still give you plenty of peak performance in the park, the Rossignol Jibsaw is the way to go.
This is a highly affordable board with a twin shape and unique profile that caters to the park. AmpTek rocker gives you a lot of pop while still enabling you to stay in control and on top of every landing and approach.
I also like this one because it's very stable, no matter how you want to ride. From quick turns to long, fast runways, you'll get good control without chatter or slip. The 7S serrated edges help with control and stability in mind.
The Jibsaw is durable and strong, but it tends to ride a bit wide. This can make it a little difficult for smaller riders to use. It's also not the best option in other types of terrain outside the park.
5. Best for Park and Powder: Lib Tech Skunk Ape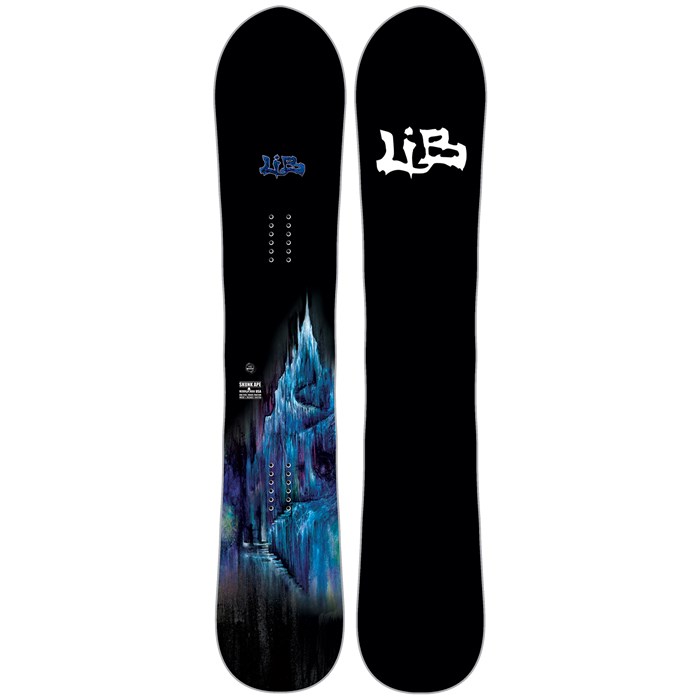 Best For: Park and Powder
Key features: Versatile performance, really fun to ride, eco-sublimated base, lightweight, magne-traction edges
Shape: Directional Twin
Profile: Hybrid
Cost: $$$$
Get the best of both worlds is a tall task, but the Lib Tech Skunk Ape does just that and is the best snowboard for park and powder.
The Ape is perfect for any high-flying riders that know how to take advantage of a good snow day. You won't be stuck in the park, even though you can stay there as long as you'd like.
The board is light enough to quickly maneuver on any park feature yet strong enough to keep you in control and on point when you want to rip big mountain lines through deep piles of snow.
The directional twin ship caters to both these riding styles and allows you to navigate changing conditions quickly. An eco sublimated adds strength and durability to keep sticky rails and exposed rocks at bay.
Since the Skunk Ape has a multi-style design, it's not a true park board, and you can expect some sacrifices in switch riding performance as a result.
==> You can also get it on Christy Sports.
How to Choose a Park Snowboard
Keep the following things in mind when you are looking for a quality snowboard for the terrain park.
Shape
Snowboards come in various shapes, but most fit into two distinct categories: twin or directional. A twin shape will be close to symmetrical from tip to tail, while a true twin shape will be completely symmetrical.
A twin shape is ideal for the park because it makes it much easier to ride switch. You don't always need a true twin for a park board, but you will want to avoid directional shapes because those will limit what you can do.
Profile
Profile is another important consideration when getting a park snowboard. Profile refers to a board's shape when you look at it from the side.
Rocker and camber are the two descriptive terms you need to know about your board's profile. Personal preference and your riding style also come into play here.
Boards with a lot of camber are explosive and responsive, making them great for aggressive riders who like to go huge off of kickers. Camber also allows you to generate more push and flex out of your board.
A flatter board with a rockered profile is a little better for rails and can feel more similar to a skateboard.
Most park boards incorporate elements of both rocker and camber. Experiment with different profiles to figure out what's best for you.
Flex
Flex is also something to take into consideration.
A soft board is better for beginners who are just getting a feel for what park features they like. They are also more forgiving and easier to maneuver.
A stiffer board will give you more control and response, especially at high speeds. That makes them good in the pipe and for advanced riders.
There is no exact flex that works for every rider in every situation. What's best for you comes down to preference and feel.
You might need to try out several different boards to figure out your ideal flex with that in mind. A medium-soft flex is a good starting point to look for when getting a park snowboard.
FAQs
Here are some commonly asked questions regarding park snowboards.
What type of snowboard is best for Park?
The most important feature of a snowboard to keep in mind for the park is a twin shape. This will allow you to ride and land switch, which opens up a variety of different tricks and maneuvers in the park. Soft flex and plenty of rocker are also nice to look out for.
What size park snowboard should I get?
If you are getting a board specifically for the park, choose a length about 5cm less than what you usually ride. Small boards are more maneuverable and will help you spin and catch air easier.
Is Camber good for park?
Camber isn't as crucial as rocker for a park board. This can be somewhat of a personal choice, but rocker will allow you to spin and turn quickly when hitting features in the park. Camber is more for all-mountain and big mountain considerations.
How do I get better at park snowboarding?
The best way to get better at park snowboarding is to spend more time riding in the park. Practice makes perfect, and the more time you put in, the better your abilities will become. A lesson is another way to learn new things.
Useful Tips & Resources
If you ride in the park, you need to make safety a big priority. Going off large features and performing complicated tricks are risky and dangerous, even if you are an expert. Accidents happen.
Always wear a helmet and make sure landing areas are free and clear of other riders before approaching any feature. An injury can ruin a season and potentially risk your life. Always be careful no matter where you ride!
There is some basic etiquette to the terrain park that you should also know about if you don't already. Check out this video to learn about the rules and respect that every rider should honor.
Final Words
The best way to get better in the park is to get out there and get after it. Always keep safety in mind and remember that sometimes you need to push yourself outside of your comfort zone to improve.
The Lib Tech Skate Banana is one of the best park snowboards you can buy, but all of the options on this list are recommended. By getting your hands on one of these fantastic snowboards that excel in the park, you'll be able to enhance your skills this season.
About Lorraine